Sound Gallery Workshop
PART OF VIBRAPHONIC FESTIVAL
Category
Book Now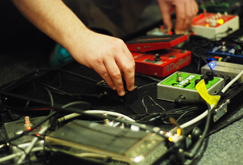 Sound Gallery Workshop
*Please note that there is a £1.50 fee per transaction
Sound Gallery presents
FUSION OF IMPROVISATION AND TECHNOLOGY IN LIVE MUSIC PERFORMANCE
This workshop will demonstrate improvisation and music technology in a live performance setting. A fusion of traditional Rock structures with avant-garde pop synthesis and glitch using state of the art technology featuring Ableton Live
(triggers and loops), Bass and Guitar looping and midi pedals, Vocal and instrument
mangling and treatments using iZotope Stutter Edit live remix software.
Members of art Rock outfit GRICE will demonstrate their live set up, the tools they
use and will perform musical examples manipulating audio in real time.
With: Grice Peters, Al Swainger, 05Ric and Duncan Chave.
The session will involve three workshop/masterclass elements alongside live
performance, Q & As and demoing.
Suitable for musicians, singers, producers, laptop performers, sound designers and
all music enthusiasts.
This is a Sound Gallery // A2D production (part of Vibraphonic Festival)
VENUE: EXETER PHOENIX VOODOO LOUNGE