This event has passed.
Soft Machine
Category
Book Now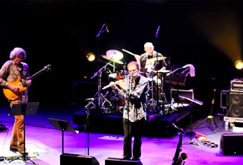 Soft Machine
*A note on transaction fees
A small £1.50 fee is added to each transaction. This covers the cost of getting your tickets booked, that's everything from the booking software to card charges. We don't charge this to make a profit.
Soft Machine
John Etheridge | John Marshall | Roy Babbington | Theo Travis
Three quarters of the celebrated 70s version of the legendary group, which recorded the acclaimed Softs album in 1975, are completed by outstanding sax star Theo Travis.
The band plays material from the era (compositions by Hugh Hopper, Mike Ratledge, Karl Jenkins) as well as many contemporary works, as featured on their recent album, Burden Of Proof.
Venue: Exeter Phoenix