Sky + Tubes
Vibraphonic Festival
Category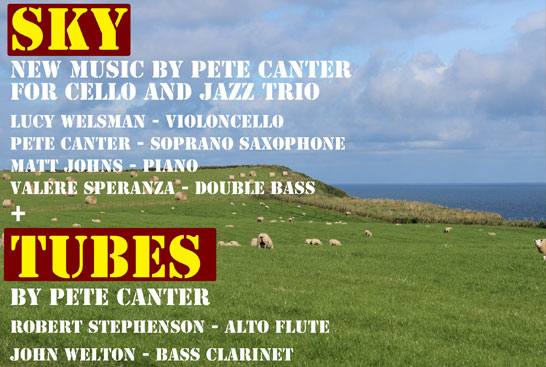 Sky + Tubes

Part of Vibraphonic Festival 2016
Celebrating all things diverse and progressive in music of black origin, Vibraphonic returns to Exeter this spring with a line up of jazz, hip hop, dubstep, soul, blues, drum n' bass and urban music. Look out for events across the city through March.
New Music By Pete Canter
Sky: for cello and jazz trio
Tubes: for alto flute and bass clarinet
Bringing together elements of jazz, folk and contemporary music, Exeter based saxophonist-composer presents a collection of fresh new works for cellist Lucy Welsman, pianist Matt Johns, double bassist Valere Speranza and himself on soprano saxophone plus the first performance of Tubes, his new duet for alto flute and bass clarinet. Lyrical and engaging melodies, fluid improvisation and superb musical interplay between fine musicians.
Part of 2016's Vibraphonic Music Festival.
Venue: Top Studio, Exeter Phoenix