This event has passed.
Simpson, Cutting & Kerr
Category
Book Now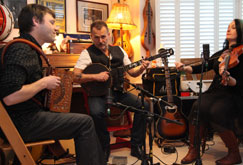 Simpson, Cutting & Kerr
*Please note that there is a £1.50 fee per transaction
Simpson, Cutting & Kerr
Three leading lights of British folk regroup as a new trio made up of guitar hero Martin Simpson, singer and fiddle-player Nancy Kerr and squeezebox star Andy Cutting (BBC Radio 2 Folk Awards Musician Of The Year). Their debut album Murmurs will be released in June 2016.
Murmurs was recorded in January this year and captures all the excitement of three master musicians having musical fun together. It's a collection of songs that communicate to the listener a sense of bonded musicianship, a real feeling and empathy for each others' playing and a collective love and innate understanding of the music. Recorded with award-winning producer Andy Bell, the combination of traditional songs, such as Fair Rosamund and a stunning Plains of Waterloo, and original compositions, including Dark Swift and Not Even The Ground makes for a compelling listening experience; stories are told with instruments played by these masters of their respective crafts, but this is no showcase, more an expression of the joy of playing and singing between three absolutely intuitive musicians.
'It is so incredibly exciting. Andy and Nancy have been brilliant. The whole project is sheer joy!'
MARTIN SIMPSON
'Outrageously great album from Simpson·Cutting·Kerr. 'Dark Swift & Bright Swallow' is amazing. It's stunning and beautiful. And timely. All things great folk should be.'
ROB COWEN, AUTHOR OF COMMON GROUND
Venue: Exeter Phoenix