Shakespeare In Hell
Category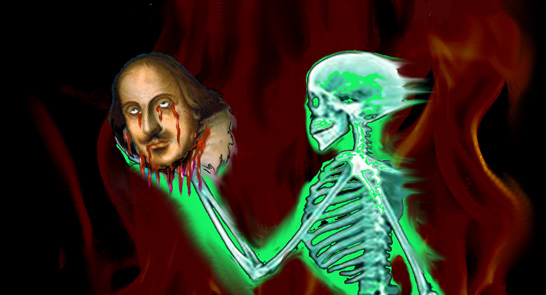 Shakespeare In Hell

Brite Theatre present
Shakespeare In Hell
Running Time: 85 mins
Follow Ariel through Dante´s nine circles of hell to discover the blood spattered histories of eighteen of Shakespeare's most memorable characters as they collide with likewise guilty sinners from the Bard's canon. Faithlessness, lust, gluttony, greed, wrath, heresy, violence, fraud and treachery are their sins, the form their dreams took while living.
A physical and emotional performance that takes you on a fast paced journey through human wickedness and regret.
'The atmosphere was suitably uneasy; the darkness, the eerie red glow and the heat of the room created the hellish backdrop for some disquieting moments.'
RAZZMAG
'Goneril's wrath was volatile and vengeful, while Lady Macbeth's cold anger was incredibly disquieting as she cast spells and mocked Goneril's passion and lack of control.'
RAZZMAG
Tickets
Ignite Festival Ticket Prices: 1 show £7, 2 shows £13, 3 shows £18, 4 shows £22 and 5 shows £25.
Buy online below (multibuy savings will automatically be applied to your basket) or call our box office on 01392 667080.
VENUE: EXETER PHOENIX AUDITORIUM