Score
A play with music
Wed 01 Mar 9600 - Wed 01 Mar 6000
Category
Book Now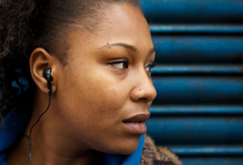 Score
*Please note that there is a £1.50 booking fee per transaction

Photo credit Kitty Wheeler Shaw
Document Theatre presents
Score
Score is a musical play from Documental Theatre about friendship, dognapping and two-part harmonies. It's inspired by the frank and funny accounts of parents using Bournemouth drug treatment services.
Hannah is an X Factor aficionado with a mile-a-minute mouth, a ten year-old daughter and a low-level Heroin habit.
Her childhood friend, Kirsty, who has never "picked up", is pulled along in her slipstream days before giving birth.
Two years later they meet at a child contact centre. Hannah's joined a choir to replace one kind of score with another, but she's the last person Kirsty wants to harmonise with. Life without a habit is far from routine…
Written by the winner of the Ronald Duncan Award, Score cascades through time to tell an uplifting story of split loyalties, soggy nappies and bum notes.
'Strong instinctive writing'
DAVID LANE, PLAYWRIGHT
'Laugh out loud moments'
MEL HUGHES
VENUE: EXETER PHOENIX BLACK BOX