This event has passed.
Sam Aldridge
Thu 01 Jan 1970 - Thu 01 Jan 1970
Category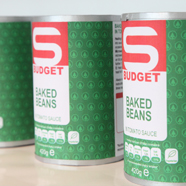 Sam Aldridge
Sam Aldridge
Spar Budget Beans on Algot Shelves (2012)
Cardboard, coloured paper
Sam Aldridge is a visual artist and curator. He predominantly produces sculptural imitations of everyday objects, using readily available materials, including corrugated card, coloured paper and electrical goods. This is done through a process of interacting with the original object, attempting to memorise it, drawing what is remembered and subsequently constructing a version of it from these drawings. His work explores our relationship with the objects that surround us, investigating their function, and aesthetic.
Artist Website Here