Rinse:It Fourth Birthday
Category
Book Now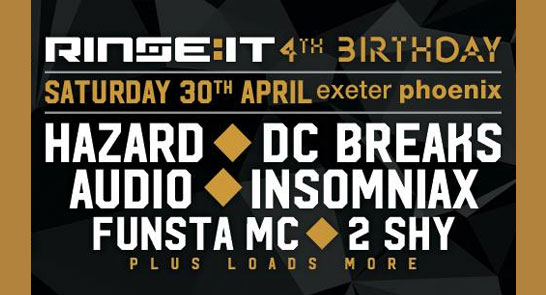 Rinse:It Fourth Birthday
*Please note that there is a £1.50 fee per transaction
Rinse:It Fourth Birthday
Where did the time go? It's been 4 years practically to the day since we started project Rinse:it and its fair to say in that time its grown into something bigger than we really intended. So of course it's about time we celebrated a birthday and back at Exeter Phoenix.
Main Room – Auditorium
Rinse:It Drum & Bass, Jungle
Hazard (Playaz/Radius)
Dc Breaks (Ram)
Audio (Ram)
Insomniax (Viper)
Catalyst (Rinse:It)
Hosts; Funsta, 2 Shy, Felon,
Johnny G, Westman.
Room 2 Voodoo Lounge – Local Heroes
D&B, Jungle
Mr Nice
Maxxi P
Operation D
Sidistic
Neuroth
Ben Chappell
Beeson
Oblivious
Skoynes
Mcs: Johnny G, Agony, Westman, Y Dott, Jolla, Delight Detail
Room 3 Bar
House, Bass, Ukg, Reggae, Dub, More
King Farmer
Potential Soul
Hatchett
Raggadee & Steppin Razor
Plus extra sound, lighting, lasers, decor, and an additional bar and chillout area upstairs.
Venue: Exeter Phoenix