Psychedelic Circus
Category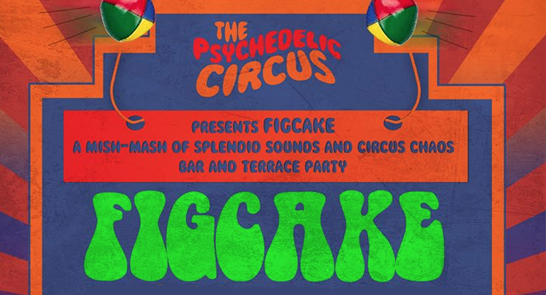 Psychedelic Circus
The Psychedelic Circus presents
Figcake
The Psychedelic Circus bring you an extraordinary circus-themed extravaganza, featuring a mishmash of colourful characters and sweet sounds to make your feet bounce.
Expect entertainment from Exeter Circus Society's finest, including fire performers outside as the event starts!
In amongst the carnival chaos you'll find tonight's special: FIGCAKE, with a side serving of dnb, jungle, house, electro and more…
Bar
FIGCAKE
A mix of grottiness, beats and bass, with Balkan infusions, world inclusions and gypsy delusions!
ILLER INSTINCT
Laying off the 2 Step for the night, Inner Ring Sting will be boshing out the amens and tek for this one.
SUPER SMASH BROS
The crème de la crème of stompin electro… not one to miss!
BOOMJESTER
Bringing the funky beats to all lovers of heavy, dirty, wobbly bass!
THE MAD HATTER
Sweet fresh funkyness and jackin delights for your ear holes.
TERRACE
CHAPPY
A chap who mixes n fixes. Breaks to the beats, Neuro to the funk, Show for the Electro, Breakcore for a hound and funky for a pound.
SHORTSON
Dark dnb and neurofunk to vibrate and rotate your brain juices…
XHALE
Specialises in dropping face melting stomper after stomper!
JES-C
Anything goes with him from hip hop to gabba to neurofunk.
DJ GANGLE
Exotic Soundsystem's DJ GANGLE will be bringing you the funkiest beats and bounciest house from the exotic world!
Sound in the bar brought to you by SammySound's lushness!
Fancy dress or dress fancy – we wanna see your most extravagant and colourful attire!
VENUE: EXETER PHOENIX BAR AND TERRACE