This event has passed.
Pretentious
Thu 01 Jan 1970 - Thu 01 Jan 1970
Category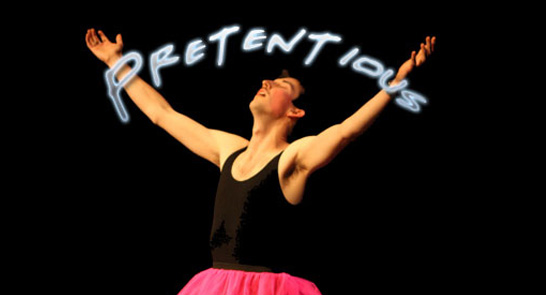 Pretentious
CLICK HERE TO BUY TICKETS FOR THIS EVENT >>

Theo Fraser presents
Pretentious
We strive eternally to find the meaning of our existence, to answer the unanswerable questions. We endeavour to carve our niche into the world, and leave our mark for future generations. But what happens when all we're faced with is an empty void of personality, a chasm of nothingness? One man sets out on a journey of self-discovery, armed solely with a leotard and a tutu, pushing the barriers of what the human mind can comprehend, in order to find out all the answers for himself. Casualties will be encountered, many will perish, and sanities will be tested, all in the name of proving our worth in the universe. Battling existential anxiety through the medium of voice, dance, and soliloquy, one man shall ultimately encounter his greatest demon…himself. Step up to the metaphysical mirror and search for the true meaning of identity.
Disclaimer: May not be 100% sincere.
'Fraser explores some genuinely intellectual questions regarding how our concept of self is developed…A terrifically funny performance.'
THE PUBLIC REVIEWS
VENUE: EXETER PHOENIX BLACK BOX