Overwhelming, Uncontrollable, Frenzied – International Shorts 2
Category
Book Now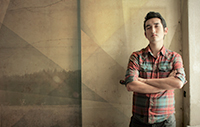 Overwhelming, Uncontrollable, Frenzied – International Shorts 2
Two Short Nights presents International Shorts Screening
Showcasing the second set in a trilogy of selected short films from this year's Open Screening submissions.  A mash-up of confusion, obsession and haste controls this disturbed selection of international short films.
Some films may not be suitable for a younger audience. Prebooking is strongly advised for this screening. Order of occurrence may change.
The Films
MOMENTUM
Dir. Boris Seewald. Germany. 2013. 06' 43"
For some it is just an ordinary party snack but for Patrick, who tells his story in the short film by Boris Seewald, a tortilla chip started his moment of self discovery. With exuberant dancing and magical passion he shares his inspiration and invites everyone to participate. Even his mother.
DEMOCRACIA
Dir. Borja Cobeaga. Spain. 2013 . 10' 46"
The manager of a company proposes a daring plan for keeping the workers' morale high.
APPEARANCE
Dir. John Panton. UK. 2013. 03' 22"
Charlie Higson stars as himself* delivering a promotional talk and book signing for his latest publication. However, two children start asking awkward questions… *sort of
OTHERSIDE OF THE ROAD
Dir. Pippa Riddick. UK. 2013. 07' 15"
Forty years after that band took that photo, the realities of living on Abbey Road are uncovered.
DRIVE THRU
Dir. Georgina Higgins. UK. 2012. 04' 29"
Chris and Darren are two best friends from a small town outside London who's ordinary life has become a boring routine. They are motivated to reignite their life by an old high school friend who contacts them for a glamorous night out in London. Just minutes into their night out in the city Chris and Darren discover that their friend is in deep trouble and they attempt a quick get away. Thrown into a car chase one stupid act ends them where they began.
GREEN FUZZ
Dir. Nicholas Heet. USA. 2012. 08' 59"
A Rocker stumbles upon a bag of KILLER weed in his practice space that'll spirit his mind away into the gaping maw of widening madness.
LIGHTS AND THEN THE NOISE
Dir. Mathy & Fran. UK. 2012. 04' 15"
Sneaking out of her bedroom window at night, a young girl encounters an unearthly happening.
IT'S CONSUMING ME
Dir. Kai Stänicke. Germany
I can't move on, I wish I could. But I'm caught in the thought of what could have been, losing my grip on reality.
FELIX
Dir. Anselm Belser. Germany
Every action has a reaction.
DYSTOPIA ST
Dir. Dave Cave. UK. 2012. 10' 40"
Lost in a nightmare world, a man must unravel the mystery of his plight in order to find the key to his escape.
PRO KOPT
Dir. Sascha Zimmermann. Germany
A bored businessman alone in a hotel makes a phone call home only to make a shocking discovery when he talks to the maid.
EYES IN THE DARK
Dir. Alex White. UK. 2013. 10' 13"
A journalist hears the tale of a professor's discovery of a supernatural box that shows him the secrets of the universe.
COLD STAR
Dir. Kai Stänicke. Germany
A boy experiences new desires while watching a man at an indoor swimming pool. Forced up the diving platform by a rowdy gang, he receives help from an unexpected source.
Cold Star is an appeal for acceptance of your own and others sexual identity.
Two Short Nights 2013 is kindly sponsored by: