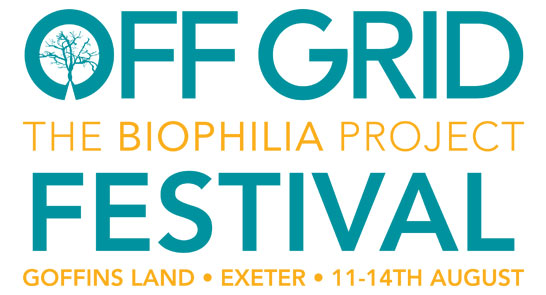 Off Grid Festival
*Please note that there is a £1.50 fee per transaction
Off Grid Festival
Welcome to Off Grid, a One Planet Community Festival collaboratively self-organised by the people for the people.
Off Grid is a deep exploration of community living, creativity and consciousness; an intimate environment in which to share skills, trade knowledge, impart wisdom and make a difference. Four days out of the world to get into changing our world. We think of it as an experimental innovation lab for a new paradigm of economic, ecological and community thought, a radical gathering of empowered people making a difference in their lives and celebrating emergent culture.
Over the years the festival has educated and informed thousands of people about the skills and knowledge required for a low-impact 'off-grid' lifestyle.
At Off Grid 2016, we believe that another world is possible. The question we are asking is, how do we make it so??
FEATURING
Off Grid College: 12 Modules in Practical Sustainable Living with Shift Bristol
3 Days of Micro-Conferences: Asking the key questions about how to make another world possible. Themes include New and Local Economies; Land and Community; and Systems of Change. With The REconomy Centre, Transition Exeter, ECOE, Exeter Pound, Landstory and many more contributors…
Crafts, Technology and Eco-Build Area: With practical demonstration of building techniques, traditional crafts and alternative technologies.
The Wildwoods: Bushcraft, Deep Ecology, Therapies, Sacred Arts and Music.
Off Grid Kids Area: Forest School, Arts & Crafts, Fun and Games
Barn Stage: Live Music and DJs, best of the local and grassroots music scene
Permaculture Garden
Sauna
Compost Loos and Eco-Showers
Local and Organic Food & Drink from our Site Canteens and Bar
Onsite Currency provided by Exeter Pounds
And much, much more…
Pricing:
£107.50 Full Price Tickets (Up to 100 available)
£0 Child Ticket (0-4)
£22.50 Child Ticket (5-15)
£57.50 Teen Ticket (16-17)
£32.50 Saturday Adult Day Ticket (Valid from 10am – 1am. No camping. No onsite parking)
£32.50 Sunday Adult Day Ticket (Valid from 10am – 11pm. No camping. No onsite parking)
£17.50 Weekend Car Parking
£27.50 Weekend Campervan Parking
Venue: The Biophilia Project
Goffins Land, Church Hill, Pinhoe, EX4 9JL