This event has passed.
Nils Kercher Duo
Category
Book Now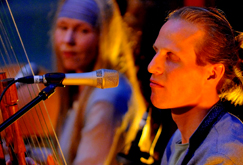 Nils Kercher Duo
*Subject to a £1 ticketing system charge. We don't charge this to make a profit. Find out more >>

Nils Kercher Duo
PULSE & POEMS
Nils Kercher kora, guitar, vocals, percussion
Kira Kaipainen percussion, vocals, balafon
The singer and multi-instrumentalist Nils Kercher draws his inspiration from the traditions of West Africa and from the introspective atmosphere of Nordic vastness and modern songwriting.
He and his Finnish duo partner Kira Kaipainen spread out their treasury of expressive rhythms alongside balafon and the awe-inspiring kora, a twenty-one stringed West African harp. Their "poetic world music" builds into fantastic contrasts while later passing into an almost sacred sound space with a quietly oscillating pulse.
Kira's soft voice and her gripping lyrics blend seamlessly with Nils' broad ranging repertoire of timbres.
His latest album SUKU – Your Life is Your Poem received numerous positive reviews from world music magazines such as Songlines, R2 and froots and was compared to releases from Peter Gabriels Real World studio, Steve Reich's minimal music and to Malian Singer Rokia Traore´s soulful album Bowmboi.
Nils´ achievement is to successfully merge the lyrical, refined aspect of his compositions with his passion for rhythm and energy. The songs feel like a cycle of verses that leave you enchanted long after the music has faded away.
Venue: The Workshop, Exeter Phoenix