Nicky Hirst – Exhibition Preview + Artist Talk
Category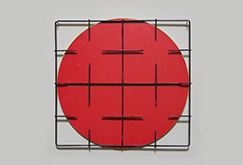 Nicky Hirst – Exhibition Preview + Artist Talk
Phoenix Gallery
Nicky Hirst Exhibition Preview
ALGORITHMS – GRAIL MOTHS, LARGISH TOM, MISTRAL HOG, LOAMS GIRTH, SHALOM GRIT, SOLAR MIGHT, ROAMS LIGHT, MORAL SIGHT, A GRIM SLOTH, A LOGS MIRTH, MORTAL SIGH
---
Join the artist for a glass of wine and a first chance to see the exhibition. Nicky Hirst will give a talk on the exhibition and her wider practice at 3.30pm.
---
A solo exhibition of new work by Nicky Hirst, whose practice may be described as an exploration of serendipity that can occur in unintended and unexpected places. Her sources may be particular objects or certain words whose meaning she subtly shifts by manipulation or juxtaposition. Hirst's output includes drawing, sculpture, collage, printed text, photography and public art commissions and, while avoiding simple categorisation, her art is always characterised by a measured stance and sensitivity towards materials.
Unconventionally, the show's twelve new works were initially conceived as titles, each an anagram of the word Algorithms, before being realised as artworks in response to their name; Grail Moths, Largish Tom, Mistral Hog, Loams Girth, Shalom Grit, Solar Might, Roams Light, Moral Sight, A Grim Sloth, A Logs Mirth, Mortal Sigh, each speaking to Hirst's particular methodology of collecting, curating and collaging images, words and objects.
VENUE: PHOENIX GALLERY, EXETER PHOENIX
Our main contemporary art space, exhibiting new work from regional, national and international artists.