This event has passed.
Nice People
Scandifilm (BSL Accessible)
Category
Book Now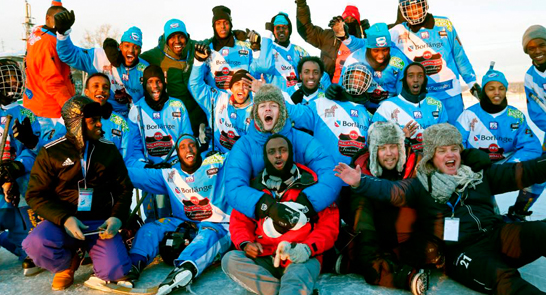 Nice People
*A note on transaction fees
A small £1.50 fee is added to each transaction. This covers the cost of getting your tickets booked, that's everything from the booking software to card charges. We don't charge this to make a profit.
Scandifilm Season
Nice People (Filip & Fredrik Presenteraar Trevligt Folk)
+ Post-Screening Panel Discussion
Director: Anders Helgeson, Karin af Klintberg
Documentary
Sweden, 100 mins, 2016, subtitled
Nice people live in the Swedish town of Borlänge, if you believe the town's motto. But not all the locals appreciate the presence of a large group of Somali immigrants. In what's been dubbed 'the real life Cool Runnings', this heart-warming and entertaining film follows one man's attempt to bring together a community, by setting up the first national Somali bandy team. A cross between ice-hockey and soccer, learning bandy doesn't come easy to Somalians who have never skated in their lives, but the ever-enthusiastic Patrik Andersson is confident that his team will become the first to represent Somalia in the Bandy World Championships in Siberia.
The results include cartoon-like scenes with Somalis, far from home, trying to skate for the first time, and drily comic discussions with locals who express their doubts: 'aren't Somalis traditionally rather lazy?' Will the young men be received as heroes?
'Occasionally hilarious and frequently heart-warming'
WYLIE WRITES
Panel Discussion (BSL Interpreted)
The screening will be followed by a panel discussion which will be interpreted by a BSL communicator. The panel will feature:
Michael Dumper is a Professor in Middle East Politics, University of Exeter and has just completed a study on the future of UN Relief and Works Agency for Palestine Refugees (UNRWA) for DFID

Pauline Hastings is an educational psychologist and member of Singing4Refugees

Gerald Coyningham is an active memeber of the Crediton refugee group

Yaara Lahav Gregory is an active member of the Ashburton refugee group

Dr Souad Fadel will be representing Exeter Mosque.
Venue: Studio 74, Exeter Phoenix