This event has passed.
NGNG Artists' Talk
Category
Book Now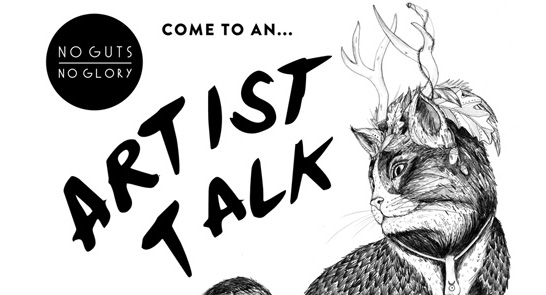 NGNG Artists' Talk
*Please note that there is a £1.50 booking fee per transaction
Come to an artist talk!
On Saturday 1st November No Guts No Glory will be offering an afternoon of creative celebrations to celebrate our 5th Birthday!
Offering you the rare opportunity to step inside the minds of three inspiring NGNG artists; Graphic Designer Becca Allen, Dip-Pen Illustrator Philip Harris, and award winning Illustrator Sandra Dieckmann with talks on Choice, Change and Chance, followed up with an informal Q&A. The talks take place on Saturday 1st November from 3:30-6pm at Exeter Phoenix Voodoo Lounge. Tickets are £15 available in advance from No Guts No Glory and Exeter Phoenix.
If you're free before 3 – pop in and participate in three NGNG workshops!
VENUE: EXETER PHOENIX