Misty In Roots
Category
Other Information
Standing
Book Now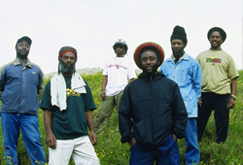 Misty In Roots
*Please note that there is a £1.50 fee per transaction

Misty In Roots
Since the mid-70's Misty In Roots have been wowing audiences worldwide with their powerful roots reggae sound and uncompromising lyrical vibrations.
They came together in 1975 as a backing band for Jamaican legend Nicky Thomas, but soon developed their own orthodox sound and their powerful lyrics inspired by the economic decline, a growing awareness of their African culture and a spiritual awakening.
Famed for their live performances, they became a major force in Rock Against Racism and played more concerts than any other band in the movement. This opened up a whole new world and they quickly developed a cross over audience, playing with such acts as Tom Robinson, Elvis Costello and The Ruts.
Don't miss one of the all-time greatest reggae bands.
VENUE: EXETER PHOENIX AUDITORIUM