Mighty Mashup Ft Mr Tramatik
Category
Book Now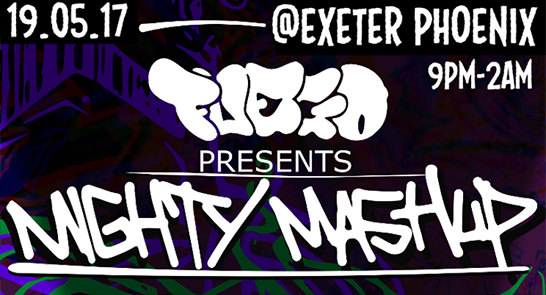 Mighty Mashup Ft Mr Tramatik
*A note on transaction fees
A small £1.50 fee is added to each transaction. This covers the cost of getting your tickets booked, that's everything from the booking software to card charges. We don't charge this to make a profit.
Mighty Mashup Ft Mr Traumatik
Fuego and Nine 2 Five have linked up to bring Exeter a night headlined by the legendary MC Mr Traumatik. Expect a true clash of underground music across the building with appearances from C3B, Oblivious, Moraless X Maseman (Devon Boys) and more.
BAR
Dingo (Fuego) – 9:00 – 9:45 (UK Bass) (45 mins)

Vibe Rater (Beatroot) – 9:45 – 10:30 (Bassline/Garage) (45 mins)

RexFX (Fuego) – 10:30 – 11:30 with mcs (Bass House) (60 mins)

Matixs (Fuego) – 11:30 – 12:15 (Bassline) (45 mins)

Synergize (Xentrik) – 12:15 – 1:00 (DNB) (45 mins)

Mish (Fuego/Sick – uh Sounds) – 1:00 – 2:00 – (Jungle/TEK) (45 mins)
MAINSTAGE
Chris Nelmes (Rum Runner Sound System) – 9:00 – 9:45 – (Reggae) (45 mins)

Devon Boyz + Guests (Fuego) – 9:45 – 10:30 (HipHop) (45 mins)

Deviate (Jangle) – 10:30 – 11:15 (DNB) (45 mins)

Cal Hill B2B Cam (Xentrik) – 11:15 – 12:00 (Breakcore) (45 mins)

Oblivious ft Traumatik (Dark Elements / DNB Kitchen / Fuego) – 12:15 – 1:15

(DNB & bars)

C3B (Amen4Tekno) – 1:00 – 2:00 (RaggaTEK)

Venue: Exeter Phoenix