May-We-Go-Round?
The Hiccup Project
Category
Book Now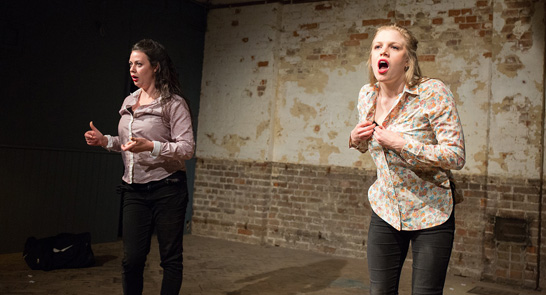 May-We-Go-Round?
*Please note that there is a £1.50 fee per transaction
The Hiccup Project
May-We-Go-Round?
Winner of the Fringe Review Award for Outstanding Theatre
Winner of the Pebble Trust Brighton Fringe Award 
This multi-award winning comedic dance theatre May-We-Go-Round is on tour after critically acclaimed run at Edinburgh Fringe 2016.
In a collision of fiercely energetic dance and comedic theatre, Chess and Cristina open a window into the hilarious highs and heartbreaking lows of their past romantic encounters. This is a show for anyone who has ever been in love or even lusted from a far.
Are they enjoying the bitter-sweet ride of romance? Yes. Does it make sense? No. But, round and round they go…
'?????'
FRINGE REVIEW
'Utterly hilarious. So euphoric, and so infectious…. It's like Smack The Pony meets Jasmin Vardimon ????'
FEST MAG
'May-We-Go-Round is one for everyone, full of tears and laughter.'
TOTAL THEATRE
'They have balls, big hearts, wry smiles, and great technique. A very exciting young company.'
LOU COPE
Venue: Exeter Phoenix