This event has passed.
Manu Delago Handmade
Category
Book Now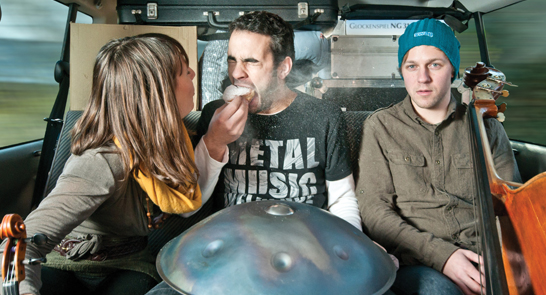 Manu Delago Handmade
Manu Delago, last seen in Exeter with Living Room In London in 2012, has just returned from touring around the world as drummer and Hang player with Icelandic singer Björk. The 'masterful and sensitive musician' (The Telegraph) has also performed and recorded as soloist with the London Symphony Orchestra and collaborated with various artists such as Anoushka Shankar, Shpongle, Bugge Wesseltoft or The Cinematic Orchestra.
His solo career began in 2007when he uploaded a video onto You Tube in which he plays the Hang, a UFO-like hand-played sound sculpture. Now that video is the most popular Hang video on the internet and has been viewed more than 4 million times. Soon after, the 'virtuoso on the Hang' (The Times) formed his own band which has since played around the world.
For the new album the band, 'Manu Delago Handmade', has teamed up with producer Matt Robertson (Björk, The Prodigy). The new material explores a vast array of sounds, ranging from sweet and delicate vocal lines with colourful Hang accompaniment, all the way through to chunky, electronic beats. The sound of the band is mature and well balanced, they have a real understanding of orchestration, moulding and continually changing the texture to create a different sound world with each piece.
The live show of Manu Delago Handmade is a defnite must-see. The performance is delicate and sophisticated, moving with ease between heavily rhythmic and free-fowing spherical sections. Each of the four performers takes on several instruments, displaying the great musical diversity of every member of the ensemble.
'An amazing percussionist and Hang player' – Björk
Isa Kurz – vocals, piano & violin | Philipp Moll – bass, synth & vocals | Chris Norz – drums, FX & light | Manu Delago – hang & drums

VENUE: EXETER PHOENIX AUDITORIUM