This event has passed.
Make LED Friendship Bands
Category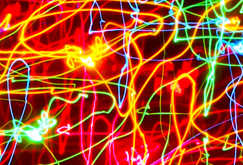 Make LED Friendship Bands
*A note on transaction fees
A small £1.50 fee is added to each transaction. This covers the cost of getting your tickets booked, that's everything from the booking software to card charges. We don't charge this to make a profit.
Make LED Friendship Bands
Make an illuminated fashion friendship band using different colour LED lights and conductive thread. You can make one for your best friend or just for yourself!
In this supervised session you will sew together your band using special thread and coloured lights that will make it glow bright. Choose your favourite colours and watch them light up before your eyes! You will be able to take the band home with you; they make a great fashion statement or a lovely gift.
These sessions are for those ages 10+ and require parental supervision throughout, as needles will be used for sewing. The ticket charge is higher than our regular pricing to cover material costs for the bands.
2.Times Do
2.Times Do are a community interest company based in the South West that provides workshops and consultancy services for schools, libraries, museums and other public venues who are interested in growing their technological and digital offering. They are particularly focused on the creative side of technology and predominantly use Raspberry Pis, Arduinos and BBC Micro:bits.
Venue: Exeter Phoenix