Maia Conran
Thu 01 Jan 1970 - Thu 01 Jan 1970
Category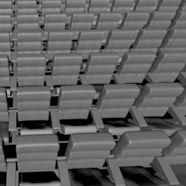 Maia Conran
[nggallery id=3]
Maia Conran – The Crowd Laughs With You Always…
Maia Conran's work explores the inherent relationship between stillness and movement within moving image. Working in film, digital animation and installation, she references iconic scenes from cinema, often adding a touch of dark humour. New works draw on interactions between traditional film and digital production methods reflecting both the multiplicity of digital technology and the potential and limitations of the medium.
This solo exhibition presents new work developed through Exeter Phoenix's 2012 Digital Art Commission and supported by CALM, the University Exeter's centre for 3D printing.
Download more information about the exhibition and individual works here.
Associated Events
Artist's Talk & Screening: Sat 2 Mar, 2.30pm, FREE
The artist will discuss the exhibition and her wider practice followed by a rare screening of the classic 1928 silent movie that has provided inspiration for her work.