This event has passed.
Loft Club & HER
Category
Book Now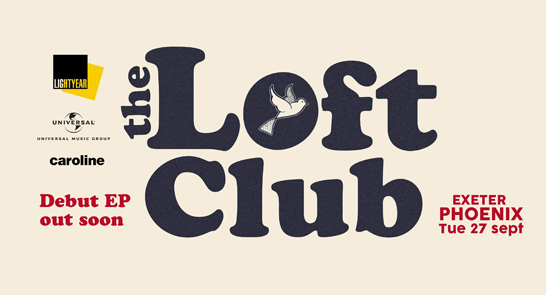 Loft Club & HER
*Please note that there is a £1.50 fee per transaction

Exeter Cavern at Exeter Phoenix
Due to the unfortunate events at The Cavern, this event has now moved to Exeter Phoenix. Support The Cavern's recovery here.
CAVERN PRESENTS
Loft Club & HER
The Loft Club, deal in stomping, colourful, heart felt, sixties tinged tunes. Comparisons have ranged from Buffalo Springfield, Fleetwood Mac and The Byrds through to more modern artists such as Ryan Adams and Noel Gallagher, complete with soaring three part harmonies and instant sing along choruses.
Having steadily built a local following playing shows and festivals the band quickly came to the attention of American label Lightyear Entertainment and a deal was signed with the EP due for release via Lightyear/Caroline/Universal Music
Venue: Exeter Phoenix