Living With Emperors (Online Event)
Front Room Phoenix
Category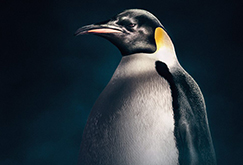 Living With Emperors (Online Event)
---
FRONT ROOM PHOENIX
Front Room Phoenix is our way of bringing you cultural activity and events during lockdown, with activity beamed straight to your sofa. Find out more Front Room Phoenix events and activity here >>
---
Agile Rabbit: Living With Emperors (Online Event)
Hear tales from the extraordinary career of a maker of David Attenborough's Dynasties series. Will Lawson directed the Emperor episode that followed penguins, and is assistant producer of the forthcoming Frozen Planet II. The event is presented by Professor Steve Simpson from the University of Exeter. He was an Academic Advisor and featured scientist in Blue Planet 2.
In this free online event, Will is sharing images and stories from the making of Emperor, a film which struck a chord with viewers across the world for its intimate examination of the birds' life cycle, which brought nature's instinct for survival into sharp focus. The film also made headlines for the crew's unusual decision to intervene with its subjects, when they stepped in to save trapped birds. After the filming ended, Will stayed in the antarctic to run a marathon.
Will has also worked on BBC programmes such as Africa, The Watches (Springwatch, Autumnwatch, Winterwatch), Patagonia, Wild West and Planet Earth II, as well as Yellowstone Live and Earth Live, for National Geographic. Before his work in television, Will helped establish BiomimicrySA (South Africa), and worked as a game ranger in Southern Africa for 7 years, an experience which laid the foundations for his work in Natural History programme making.
---
HOW TO JOIN
This is a free event, hosted on Zoom. You do not need a Zoom account to take part, but registration is necessary.
---
AGILE RABBIT
Agile Rabbit is a platform that provides special events for the South-West and beyond to focus on ideas, global affairs and the natural and scientific world. The events are set in contrasting venues across the South-West to provide quirky experiences, whilst maximising participation for all communities.
Agile Rabbit is held in partnership with the Global Systems Institute at the University of Exeter.