Leave No Trace (PG)
Caption Subtitled
Category
Price
£7* | £5* under 25s
Book Now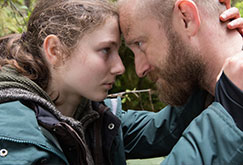 Leave No Trace (PG)
*Subject to a £1 ticketing system charge. We don't charge this to make a profit. Find out more >>
Leave No Trace (PG)
Showing times:
Dir. Debra Granik, 109 mins, 2018, USA
Will and his teenage daughter, Tom, have lived off the grid for years in the forests of Portland, Oregan.
When their idyllic life is shattered by a small mistake, they are both are put into the care of social services. After clashing with their new surroundings, Will and Tom set off on a harrowing journey back to their wild homeland and a place to call their own.
Debra Granik's follow up to Winter's Bone is a riveting tale of love and survival in the wild.
CAPTION SUBTITLED
This screening will be caption subtitled. Find out more about caption subtitling here >>
Non-captioned screening times for this film can be found here >>
AUDIO DESCRIPTION
Audio Description headsets are available for this title. Audio Description is a service for partially sighted or blind people. Find out more here >>
To reserve an AD headset please email boxoffice@localhost or give us a call on 01392 667080.
F-RATING
F-Rating is a new rating for films directed by women, written by women and/or with significant female characters on screen, in their own right. Find out more here >>

Venue: Studio 74, Exeter Phoenix