This event has passed.
Laura Hopes With PSU: Surrender
Category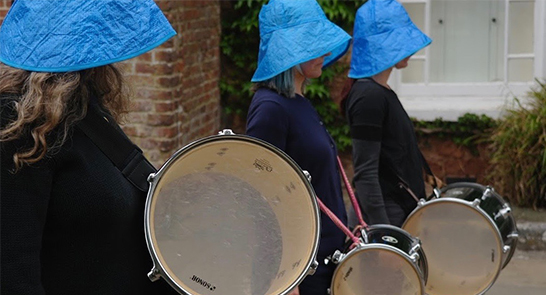 Laura Hopes With PSU: Surrender
Laura Hopes with PSU:
Surrender
---
Artist Laura Hopes and Exeter Phoenix, Associate Artists, PSU invite you to join them in a performance artwork that marks the surrender and dignified retreat from Exeter's city walls by Royalist troops during the Civil War in 1646.
By re-activating this dramatic moment, Hopes suggests a contemporary relevance in finding a dignified common ground that avoids the violence of combat and polarised debate, and mourns the schism between peoples.
Bring a drum, saucepan or something else to bang and muster at the steps of Exeter Phoenix from 1.15pm. We will then make our way to the Cathederal Green ready for a prompt departure through the city wall on the stroke of 2 pm.
'I have recently been researching the Civil War era of history in the Exeter area, and am keen to re-activate a small moment of the dramatic events of the 9th of April 1646; the surrender of the Royalist Troops following the third siege of Exeter The fortified Mount Radford and the Bridewell in St Thomas were the first to be handed over to Parliament. On the 13th April 1646 Sir John Berkeley, along with several thousand Royalist troops marched out of the city, drums beating, colours flying and with lighted match held in their hands. The 'lighted match held in their hands' were lengths of saltpetre-soaked cord that were used as the fuse in a matchlock gun – they were lit and swung to induce them to glow'.
'The gesture was allowed to give the losing side some dignity as they marched out of the city. At 2 pm the same day, led by Lieutenant-General Oliver Cromwell, commander of horse, the New Model Army marched into Exeter to formerly take back the city for Parliament – the Civil War was at last over'.
Venue: Exeter