Kris Barras Band
Sold Out
Category
Other Information
Standing
Book Now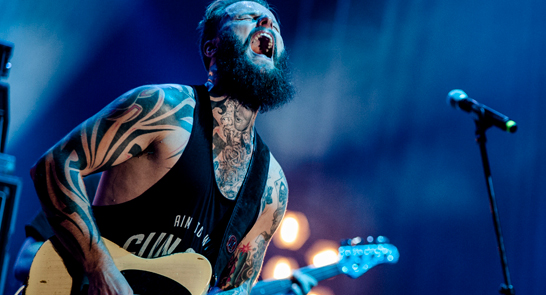 Kris Barras Band
*Subject to a £1 ticketing system charge. We don't charge this to make a profit. Find out more >>
Sold Out
Kris Barras Band
Inspired by his father at the early age of only six, Kris was already making an appearance on stage before turning ten. He has since gone on to spend more than twenty years thrilling audiences throughout the globe playing live.
The UK based guitarist has extensive experience touring in various bands, throughout the UK, Europe and USA, as both a solo-artist & session-musician.
The band are booked for some major festivals in the UK and Europe in 2017. These include Ramblin' Man Fair (UK), Rawa Blues Festival (Poland) and Bliuzo Naktys (Lithuania). 2017 has seen the band complete two very successful tours in both the UK and Europe.
A published author who has written many guitar-technique columns, books and instructional DVD's; Kris Barras has also been a featured lecturer at the distinguished Academy of Music and Sound. Kris currently writes a guitar technique column for Blues Matters magazine.
After releasing the self-titled demo EP in March 2015, the first full length album 'Lucky 13' was released in April 2016. The album received worldwide acclaim and reached number 2 in both the Amazon Blues Charts and iTunes charts. The album was also voted 'Pick of the month' by the Independent Blues Broadcasters Association, as well as winning the Riviera FM 2016 'Album of the Year'.
Kris was nominated for 'Blues Guitarist of the Year 2017' by Total Guitar magazine.
As a side career, Kris used to be a professional Mixed Martial Arts fighter, training and competing in Las Vegas, Singapore and Thailand. "People used to think I was crazy to be fighting in cages, risking damage to my hands. Truth is though, I always enjoyed it and found that the fighting world offered me more opportunities than the Music industry. I got to fight in front of 8000 people in Asia…..I would've much rather had played to them instead of getting punched in the face!"
Venue: Exeter Phoenix