Katriona Gilmore & Jamie Roberts
Category
Book Now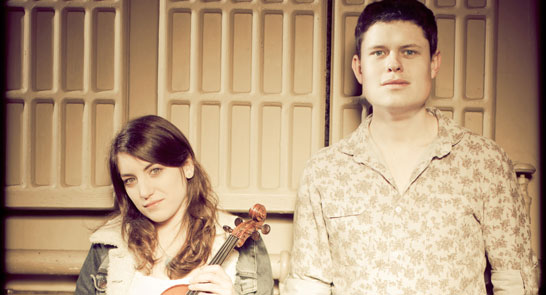 Katriona Gilmore & Jamie Roberts

Meal Deal available with this performance:
ENJOY THE SHOW PLUS A 2 COURSE MEAL FOR £21 (£19). To book call 01392 667080 (must be booked at least 2 days before event, subject to availability).
Katriona Gilmore & Jamie Roberts
With support from Jamie Beale
BBC Radio 2 'Best Duo' Award Nominee 2013
BBC Radio 2 Horizon Award nominees Katriona Gilmore & Jamie Roberts combine astounding lap-tapping guitar, fiery fiddle and their trademark harmonies with considerable songwriting talent to make a truly distinctive sound.
?????
ROCK 'N' REEL / R2
?????
MAVERICK
Since releasing their début album Shadows & Half Light in 2008 (proclaimed 'one of the finest contemporary folk albums in recent memory' by FishRecords), Gilmore and Roberts have been wowing audiences across the country with their unassumingly confident displays of instrumental technique.
2010 saw the duo release their hotly-anticipated second album, Up From The Deep, which scored them a Hancock Award for 'Best Original Song' (Fleetwood Fair). In 2011 Katriona and Jamie spent five weeks touring with folk-rock legends Fairport Convention, completed a 30-date nationwide tour in their own right and performed at two of Britain's largest acoustic music festivals – Cambridge Folk Festival and Fairport's Cropredy Convention.
In September 2012 Gilmore & Roberts release their finest album to date The Innocent Left. Recorded in London with Guillemots and Albert Lee producer Julian Simmons this record demonstrates a huge leap forward and showcases the duo's remarkable scope – folk, bluegrass, country, pop and rock – while maintaining their own distinctive roots in the storytelling tradition. The CD features Tom Chapman and Ben Nicholls on drums and bass plus a guest appearance from Rebecca and Megan Lovell of American hip country band Larkin Poe.
Aside from their work together, both Katriona and Jamie are in high demand as session musicians and have played on several acclaimed albums. Katriona has previously toured as part of Tiny Tin Lady and with Rosie Doonan's Snapdragons and recently joined the newly reformed Albion Band, while Jamie has played with young English traditionalists Kerfuffle since 2007.

VENUE: EXETER PHOENIX AUDITORIUM