Kalasha: Phil Savvas
Thu 01 Jan 1970 - Thu 01 Jan 1970
Category
Other Information
Walkway Gallery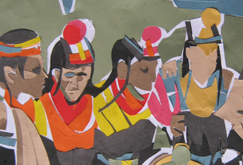 Kalasha: Phil Savvas
Kalasha: Phil Savvas
There are approximately three thousand Kalasha people in the world. They are the last survivors of Kafiristan and inhabit three distinct valleys up in the Hindu-Kush mountains of the North West Frontier of Pakistan. It is popular belief that they are descendants of the soldiers of Alexander the Great when he stormed across Asia 2300 years ago. Some Kalasha are blonde with blue eyes like some Ancient Greeks. Also the Kalasha share similar rituals, dances, ferment wine and believe in Dionysos and other ancient Gods. What is certain is that the Kalasha are unique to this world culturally and should be recognised as a World heritage people and environment. However, they are also a vulnerable culture and fragile in their life style, surrounding environment and through the impact of globalisation.
This art exhibition of mixed media is in honour and a celebration of the Kalasha people. All the proceeds from the sale of the pictures will go to the Kalasha foundation for their medical needs and welfare.
"Back in the summer of 2002 I had the good fortune of visiting the Kalasha valleys. It was watching Michael Wood's fascinating BBC documentary, 'In the Footsteps of Alexander The Great,' as well as a chance encounter with Taj Khan Kalash – a Kalash anthropologist and scholar. He drew my attention to a people who still worship the ancient Greek gods and dress in such a unique way. I feel tremendously privileged to have visited the Kalasha and valleys and experienced (alongside Taj's guidance) there unique life style and hospitality. What was amazing were the festival rituals and seeing the Kalasha take the livestock to the river with an incredible mountain back-drop – an ancient scene like on a Greek vase. Plus the sound of rushing water, the experience of being somewhere, in many ways, so far removed from the west. Money is unfortunately only just becoming a part of Kalasha life but mostly they barter. Despite falling ill for a few days I was able to sketch briefly this unique environment which has led to a series of works in various media. The forms and colours of Kalasha clothing and festivals flatters any use of media. The dark swirling shapes when Kalasha women dance combined with the primary colours of their headdress lends itself particularly with printing, collage and mixed media. This Kalasha exhibition includes prints undertaken at the Phoenix – prints, etching. Also there are monotype prints and etching from my days at Wolverhampton University. Importantly, there are allegorical works depicting the impact of globalisation through a range of appropriate media from the traditional watercolour to the brash intrusion of felt tip pens."
Philip Savvas was born in Torquay, England in 1975.
He studied BA (Hons) in Fine Art and a PGCE Post Compulsory Education at Wolverhampton University and now teaches art at EF Academy – an International College in Torquay.
Previously, he qualified with a Cambridge Certificate to teach English as a foreign language. During this period he taught English as a foreign language in Cyprus. A practicing artist – he particularly enjoys landscape painting and portraiture and has exhibited in the UK, Russia and Cyprus.  Also he plays the Greek bouzouki.