JULIET ROBSON / RICHARD FINN
Thu 01 Jan 1970 - Thu 01 Jan 1970
Category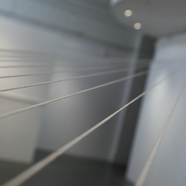 JULIET ROBSON / RICHARD FINN
[nggallery id=16]
JULIET ROBSON : FIELDWORKS
Juliet Robson uses installation, performance, film and video art to explore and deconstruct the idea of the 'norm', how the boundaries of what is perceived as normal are fluid within varying contexts.
These two new works are developed through PHD research undertaken at Dartington College of Arts, which takes cues from seminal art works of the 1960's and 70's by artists such as Dan Graham, Fred Sandback & Donald Judd, concerned with how objects are positioned in space and our bodily response to them.
See exhibition images Here
RICHARD FINN : COMMERCE AND CULTURE
In Commerce & Culture Richard Finn uses intensive techniques ranging from the purely digital to heavily worked traditional collage and pen & ink drawing to explore his interrelating life experiences – from work, leisure, citizenship, class structure, industry and urban environments, to imagination and the need for creativity.
See exhibition images Here