Joel Millerchip
Thu 01 Jan 1970 - Thu 01 Jan 1970
Category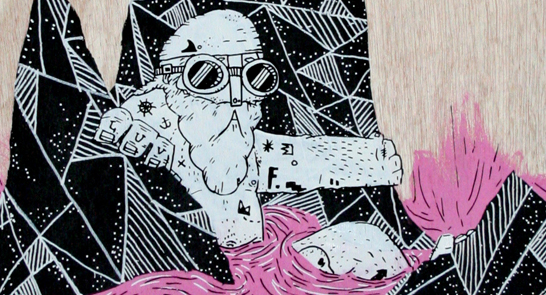 Joel Millerchip

Joel Millerchip
The Black Rock Swim Club
Long live the Black Rock Swim Club! A hand drawn nautical landscape where tattooed characters float contently amongst the sharp black rocks; beehives and beards bob above sea level, with hand built rafts, flags and paper boats.
A selection of original paintings and screen- prints by Joel Millerchip, depicting scenes of humour and poolside drama using found materials and wooden panels; a multi textured glimpse into the world of the Black Rock Swim Club.
Joel Millerchip is an Illustrator from Suffolk. His bold black and white illustrations are full of characters exploring the humour in everyday situations. Hand-drawn alter-egos brave enough to take risks he himself would never dream of. Joel has been working with Exeter based art shop and collective No Guts No Glory since 2010 applying his characteristic style to t-shirts, as well as the wall mural in the shop.
Opening Event
Come and celebrate the DIY values of The Black Rock Swim Club at Exeter Phoenix on the 11th February 2014, from 7pm with live music in the Café Bar from Falmouth based surf-punk band The Red Cords as well as live drawing from the marvelous Joel Millerchip himself!