This event has passed.
Jazz with the Neil Todd Quartet
Category
Book Now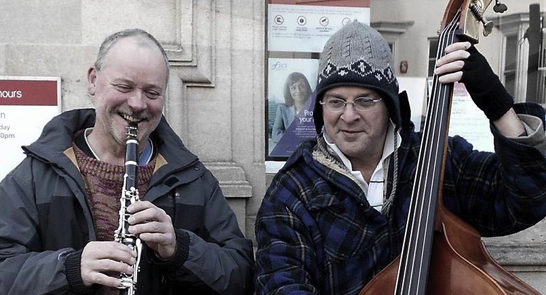 Jazz with the Neil Todd Quartet
*Please note that there is a £1.50 fee per transaction
Voodoo Lounge Jazz with The Neil Todd Quartet
Phonic FM present a live jazz session with the acclaimed Neil Todd Quartet.  Led by bass player Neil Todd, currently based in Manchester, this is a rare West Country performance from a group of pedigree musicians brought together to record an album in the Sound Gallery studios. Expect to be
swept up in a confluence of musical streams of thought, blending many influences, including Latin, classical, folk, and rock, which produces a unique, expressive style of jazz, featuring both Neil's original compositions and modern jazz standards.
Bandleader Neil Todd is not only a bassist, pianist and composer but a research scientist specializing in the psychology of rhythm and groove who has applied his knowledge of hearing and acoustics to his sound as a bass player, aiming for a singing, rich acoustic timbre.
Pianist Chris Lee is a classical/crossover player who works as a continuo player and accompanist and coach to several London-based choirs.  As a jazz player, he has a particular interest in working with singers and has performed at London venues such as the Vortex, the 606 club, the Spice of Life, and the Royal Festival Hall and Barbican foyers. His arrangements of well-known rock/pop standards have been critically acclaimed and feature on two albums: Alternative Arrangements, recorded with singer Anton Browne, and Second Take, recorded with singer Jenny Howe. He has even collaborated with drum and bass artist Goldie as part of Radio 2's Family Prom project.
Sax and clarinet player Charlie Hearnshaw's career began by studying classical clarinet, piano and composition at Dartington but has since spanned the genres of modern jazz, Hot Club, trad, folk and rock and he has even worked with Deep House producers The Rurals.  He has also collaborated with dance and theatre companies and has on occasion been accompanied by various animals, birds and machines He currently plays clarinet for Projet Brassens, who perform jazz versions of Georges Brassens' music and he runs his own modern jazz quartet.
Drummer Tony Plato has a dymanic style which has graced Ninja tunes' Counter Records and Mathew Herbert's Lifelike label. He is in the Moon Jazz Club's house band and plays locally with Nicky Scott, Pete Lowe and occasionally Charlie Hearnshaw.
Don't miss this this rare chance to hear these great musicians playing together for Phonic FM, Exeter's sound alternative radio station.
VENUE: EXETER PHOENIX VOODOO LOUNGE