This event has passed.
Janis: Little Girl Blue (15)
Vibraphonic Festival
Category
Book Now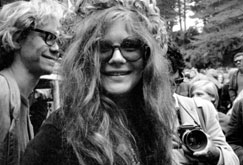 Janis: Little Girl Blue (15)
*Please note that there is a £1.50 fee per transaction
Janis: Little Girl Blue (15)
Dir. Amy J Berg. 2015. 107 mins. USA
Janis Joplin is one of the most revered and iconic rock & roll singers of all time, a tragic and misunderstood figure who thrilled millions of listeners and blazed new creative trails before her death in 1971 at age 27.
With Janis: Little Girl Blue, Oscar-nominated director Amy Berg (Deliver Us From Evil, West of Memphis) examines Joplin's story in depth for the first time on film, presenting an intimate and insightful portrait of a complicated, driven, often beleaguered artist.
'A terrific film'
MOVIE NATION
'The electric voice and lost soul come to life in a thorough profile of an all-too-brief career – ????'
TIME OUT
'The satisfying feature-length overview that Joplin's brief, fiercely brilliant career has long merited.'
VARIETY
Women On Film Series
In connection with International Women's Day on Tue 8 Mar we've highlighted a selection of titles, which put the spotlight on women in film. These titles share stories of female strength, identify unique accomplishments and celebrate women's contribution to cinema.
Venue: Studio 74, Exeter Phoenix