This event has passed.
Jamie R Hawkins & Phil Cooper
Category
Book Now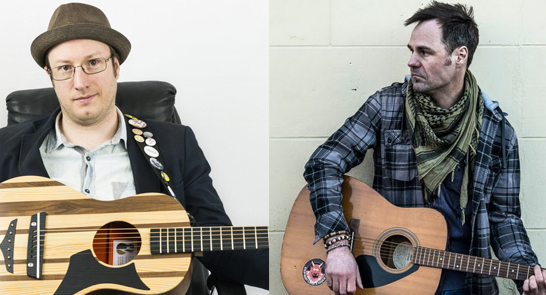 Jamie R Hawkins & Phil Cooper
*Subject to a £1 ticketing system charge. We don't charge this to make a profit. Find out more >>
Jamie R Hawkins & Phil Cooper
If you're looking for new singer-songwriters to get behind, this double-headliner is the gig for you.
Jamie R Hawkins
Jamie R Hawkins is an Award Winning Singer Songwriter whose songs have won him critical acclaim in the UK and around the world – he has been described as "a powerful mixture of storyteller, philosopher and poet", his lyrics as "poignant and witty" and his performances, "emotive and captivating". His song 'Bloody Good Xmas' won the acoustic/folk category in the 2011 UK Songwriting Contest and went on to achieve a #2 position in the Amazon download charts. He has since gone from strength to strength, forging for himself a dedicated and growing fan-base in the U.K, particularly in the Southwest of England. In March 2016 he released his second EP, 'Capacity To Change' to critical acclaim and embarked upon his first solo European Tour. 2017 saw the release of his third EP, 'The Bitter End' and the completion of a third European tour. His successes overseas have secured him more future tour dates and a recording deal with independent Swiss label, Funk Street Records. Jamie is currently working on his fourth UK EP which is expected to be released in the Autumn of 2018.
Phil Cooper
Phil is a contemporary singer/songwriter who has earned excellent reviews from the national press, with his thought provoking songwriting and energetic live performances drawing comparisons to Neil Finn, Glenn Tilbrook and Ben Folds. During his live shows, he makes a real connection with the crowd, whether it's handing out dozens of egg shakers, or passing around his "doodle book" for the audience to draw in. Every now and then you'll catch him unplugging his guitar and shunning the stage to stand right in among the captivated audience.
2016 was an exciting prospect that saw Phil turning his back on his life in executive management (he was Technical Director for an internet company) and plunge head first into a fully professional music career with the help of his first solo studio album, Things I'll Never Say. 2018 saw the release of his third solo album, Thoughts & Observations which is available on vinyl as well as all the usual formats.
Venue: The Workshop, Exeter Phoenix