Jacqui Hallum
Phoenix Gallery
Sat 16 Feb 2019 - Sat 20 Apr 2019
Category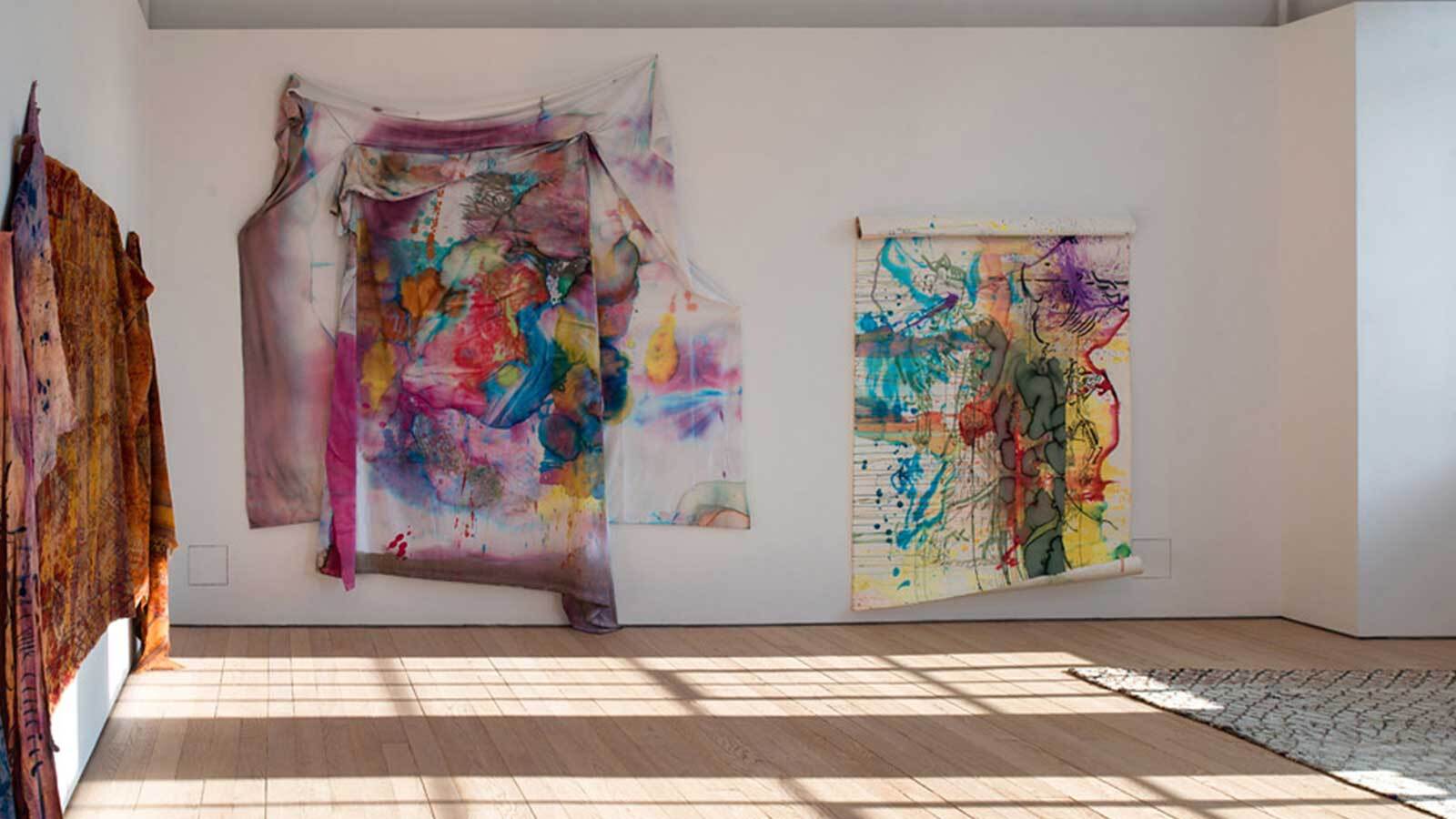 Jacqui Hallum
Jacqui Hallum's paintings draw on imagery ranging from medieval woodcuts and leaded glass windows to tarot cards and Art Nouveau children's book illustrations. She works across a number of loose cotton sheets, staining and dying them with drawing ink, graffiti ink and squid ink. The sheets move between Hallum's studio and garden throughout this process, before they are grouped and pinned together, concealing and revealing themselves to create a multi-part work.
This was the third in an on-going sequence of exhibitions, curated by Daniel Howard-Birt, in which Hallum's work is presented in the context of an object or set of small artworks by another maker. Previously these have included a series of prints by Leon Kossoff at Kingsgate Project Space, London and with specially commissioned ceramic works by Phil Root at Intercession Gallery, Northampton. Here, Jacqui exhibited alongside antique examples of Berber rugs made in the High Atlas Mountains of North Africa and loaned from a private collection.
This exhibition was followed by shows in galleries across the UK alongside work by Dieter Roth and with a Japanese Wabi-Sabi pot.
---
EXHIBITION PHOTOGRAPHS
---
Additional Activity
EXHIBITION PREVIEW | SAT 16 FEB | 3-5PM | FREE
Join the artist for a glass of wine and a first chance to see her new exhibition.
ARTISTS TALK | SAT 30 MARCH | 2.30PM | FREE
Jacqui Hallum will be in conversation with curator Dan Howard-Birt discussing their recent series of exhibitions and her wider practice.
---
VENUE: PHOENIX GALLERY, EXETER PHOENIX
Our main contemporary art space, exhibiting new work from regional, national and international artists.
---
WE ALSO RECOMMEND
Criminal Ornamentation: Yinka Shonibare MBE curates the Arts Council Collection at RAMM runs from 19 Jan – 16 Mar and explores the use of pattern in contemporary art and design. Find out more about the exhibition here >>