Invisible Music: Online Premiere
Front Room Phoenix
Category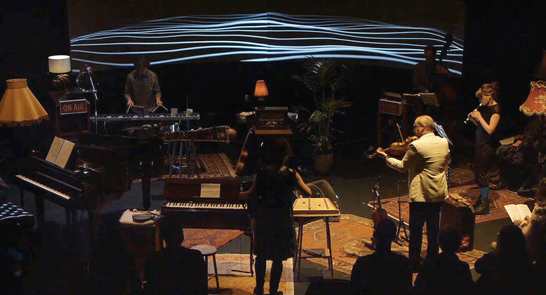 Invisible Music: Online Premiere
---
Front Room Phoenix
Front Room Phoenix is our way of bringing you cultural activity and events during lockdown, with activity beamed straight to your sofa. Find out more Front Room Phoenix events and activity here >>
Read on to find out all about Invisible Music's online premiere event on Wed 15 Jul at 8pm.
---

Platform 4
Invisible Music
'…at concerts, violinists and flautists sway in mime, rapt to the sound of invisible music. Listening I hear differently.'
What happens when the soundtrack to your life starts to change? An experimental new musical journey from Pete Flood (Bellowhead's arranger and composer) with striking projections by digital artist Barret Hodgson (Fatboy Slim; Motionhouse), Invisible Music is a captivating immersive and intimate meditation on hearing loss, drawn from personal experiences.
With a routine trip to Sainsbury's becoming an exercise in the surreal, and everyday experiences proving abnormal and out of your control, participants can journey across the mesmerising soundscape and experience life behind the impairment – helping to raise awareness for the 12 million individuals in the UK with hearing difficulties.



Platform 4
Platform 4 is an artist-led company that creates playful and unexpected worlds in which performers and participants can explore their creativity and the things that matter to them. The work is highly visual, reliant on soundscape and music and often intimate in scale, connects people and puts human relationships at the heart of the event.
---
Online Premiere: Wed 15 Jul, 8pm
Running time: 45 mins
Invisible Music is an intimate audio and visual exploration of the experiences associated with hearing loss. While the film will resonate with those experiencing hearing difficulties and their friends and family, the audience reach is much wider. Anyone can tune in and engage with the experience.
The digital film has been made accessible to all with subtitles, so those hard of hearing can still experience the message.
The film will be available to view on this page from 8pm on Wed 15 Jul when the password restriction will be lifted.