Introduction to the Live Entertainment Industry
postponed
Category
Book Now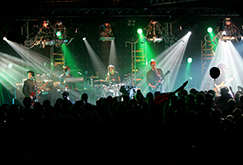 Introduction to the Live Entertainment Industry
*Subject to a £1 ticketing system charge. We don't charge this to make a profit. Find out more >>
Postponed
---
Introduction to the Live Entertainment Industry
One Day Workshop
Receive 10% off your order if you also book for 'The Creative Strategic Pitch – From Lightbulb to Delivery' and/or 'The Art of Just Doing It – A Producing Masterclass'.
This immersive introduction to the live entertainment industry will give you the confidence to make the transition from where you are now to where you want to be with a customised plan.
Designed to equip you with advanced entry-level knowledge, that will help fast-track your career and education in the entertainment industry, this promises to be a unique opportunity to ask questions on the topics you want answers on and listen to first hand stories and insider knowledge.
We'll discuss the live entertainment industry and subindustries, its ideas, leaders, agencies, venues, suppliers and work related learning experience opportunities. We'll explore your areas of interest, tools that will make you and your CV stand out from the crowd and how to plan for the future.
We believe in preparing you for the real world with knowledge and confidence to enter the work place and we'll end with an in depth Q&A. Worth the fee? We guarantee you will leave with a plan, having developed a solid introductory understanding of the live entertainment industry and better ways to improve your CV and chances of finding the right work and further education.
Cafe Bar Discount
Workshop attendees get 10% off all food and hot drinks at the Café Bar.
Tutor
Dan Howson is an Entertainment Director based in Exeter. Howson began his career in the theatre and later earned a degree in Theatre Design and Technology from Leeds University. He has developed his interest in the live entertainment industry working in a variety of global entertainment businesses and his own firms since 1997.
Today, Howson delivers entertainment strategy and tailored experiences for business leasers and brands including access to exclusive benefits with official partners such as Premier League Champions Manchester City FC and maestro magician Dynamo.
Howson is a former Ambassador to the National Skills Academy for Creative & Cultural Skills helping young people to achieve their goals in the live entertainment industry through access to knowledge, work experience, apprenticeships and employment.
Venue: Exeter Phoenix, The Workshop