International Open Screening 2
Category
Book Now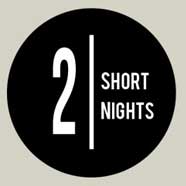 International Open Screening 2
Showcasing the selected short films from this year's Open Screening call out featuring films from all across the world, which promise to inspire, challenge and above all entertain.
STOP:GO
Dir. Lucy Kendra / 02.50 / UK (Scotland)
One autumn evening, night traffic and traffic light sequences – as reflected in a metal signpost – were captured on film. Over subsequent evenings, environmental recordings were collected in the same location. Through playful montage and layering. Stop:Go celebrates rhythm and occurrence in everyday life.
STATUS
Dir. Richard Standen / 02.19 / UK (England)
Alan, an eleven year old boy, who's just found out via a social networking site he's been dumped by his girlfriend. It follows a desperate moment when Alan goes to see her one last time.
THE KNOT
Dir. Kuzma Vostrikov / 10.00 / Russia
Before we thought that being a man born in the totalitarian USSR is something one should be proud of. And now everything changed…
FIT
Dir. Georgina McNamara / 00.41 / UK (England)
Using a jerky flick-book feel, amplified by the fanfare and hype of summer sporting events. In this playful staging of an exercise class, the viewer may be prompted to make alternative associations to what is literally presented as conflicting reactions to this subject are encouraged to emerge.
WHAT YOU DOING
Dir. Damo Cross / 03.20 / UK (England)
An innocent game of hide and seek among five kids is interrupted by curiosity. Shot in Super 8.
VOICE OVER
Dir. Martin Rosete / 09.40 / Basque (France/Spain)
I-won't-tell you-whose voice over guides us through three extreme situations, which are actually the same. Will you survive?
A MAN CUTS DOWN HIS TREE AND IT HAS ITS CONSEQUENCES
Dir. John Panton / 08.25 / UK (England)
A man cuts down a tree and it has its consequences.
HAIKUS FOR KARAOKE
Dir. Roberto Santaguida / 04.30 / Canada/Italy
Haikus fashioned from found karaoke videos.
WILL YOU MARRY ME?
Dir. David Allan / 09.40 / UK (England)
To win a radio competition trip to Thailand, Dillon must convince his unwitting ex-girlfriend to accept his On-Air marriage proposal.
PUBLIC SERVICE
Dir.Anthony Mills / 03.25 / UK (Scotland)
A short extract from the multimedia dance odyssey, Watch iT! By Room 2 Manoeuvre. It is a gloriously kitsch 60s announcement about the perils of pornography merged with digitized quirky sign language interpreter. At the beginning a very firm anti-porn stance is established, but gradually the point of view changes as the hypocrisy within society reveals itself. It is a humorous example of how TV can influence our social and moral judgments.
VENUE: EXETER PHOENIX