This event has passed.
International Documentary Shorts
Two Short Nights
Category
Book Now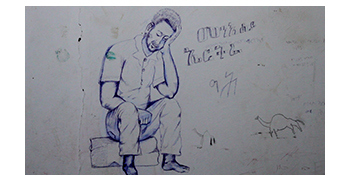 International Documentary Shorts
*Please note that there is a £1.50 fee per transaction
International Documentary Shorts
The Untold And The Beautiful
The third and final screening from our international call out featuring selected shorts from this year's documentary category.
Presenting a range of documentaries, which visit the brave, the unseen, and beautiful from the UK and the rest of the world.
Mining Poems Or Odes
Dir. Callum Rice. UK. 2015
Robert, an ex-shipyard welder from Govan in Scotland, reflects on how his life experiences have influenced his new found compulsion to write. His retrospective poetry revels a man who is trying to achieve a state of contentment through words and philosophy.  He has replaced his tools for pens and paper.
---
The Third Dad
Dir. Theresa Moerman Ib. UK. 2015
Ten years after breaking all ties with her alcoholic father, a daughter sets out not only to find his grave, but also redemption. Poetically merging archive material, new footage and an immersive soundscape, The Third Dad is a brave journey of memory, self-discovery and a desperate attempt at reconciliation.
---
Dead End
Dir. Ahmed Aboub. Libya/UK. 2015
Libya's political chaos makes its territory a land of opportunity for human smugglers. Thousands of illegal migrants end up forgotten, in one of the 19 detention centres.
---
Mother/Father
Dir. Lucie Rachel. UK. 2015
Mother Father is an intimate insight into a relationship constantly challenged by issues regarding gender. Issues that were kept a secret from everyone outside of their relationship, including their daughters. A true story, captured and shared by the youngest daughter of two very brave women.
---
Mission Impossible
Dir. Najmi Own. Libya / UK. 2014
Two young filmmakers are on a mission trying to break into the film industry but meanwhile it is Libya who is breaking down. How can they make films when the country is slowly sliding into civil war?
---
Small Wonders
Dir. Kate Goodwin. UK. 2014
A charming and often funny insight into this hidden amoebae world juxtaposing their alien existence to our human experience.
VENUE: EXETER PHOENIX STUDIO 74