Insect Tasting Workshop
Scandifilm
Category
Price
free to Bugs ticket holders (booking essential)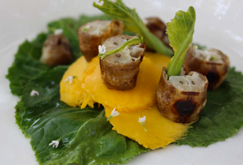 Insect Tasting Workshop

Scandifilm Season
Insect Tasting Workshop
A free workshop for cinema ticket-holders following our screening of Bugs.
Could eating bugs save the future of our planet? That's what Andreas Johnsen's latest documentary, Bugs is asking. We invite you to join Cornish Edible Insects for a free insect tasting workshop alongside our Scandifilm screening of Bugs.
Insects come to our tables and our tongues with a history, and often that is a history more Dirty Den that Albert Tatlock. We already know them as disgusting, as dirty, as dangerous – the opposite of palatable. Now we need to meet them again to see their other side as not only major players in the fields of sustainabillity, food security, and environmental protection, but also as tasteful interesting characters in their own right. Not the bad guys after all!
The challenge for those who want to make edible insects a more credible prospect is to find ways to include them in recipes and menus in a way that gives gastronomic life to these positive traits and that reveals our previous feelings of revulsion toward them as the set-up for a dramatic twist in which the insect is revealed as the hero of the story. Once reviled, now celebrated.
Allergy Advice: Those with an allergy to seafood may also show sensitivity to edible insects.
How To Book
If you would like to attend Bugs + Free Insect Tasting Workshop, please book your cinema tickets here, or call our box office on 01392 667080.
Venue: Exeter Phoenix