Inkubus Sukkubus: In Conversation
Events Temporarily Postponed
Category
Book Now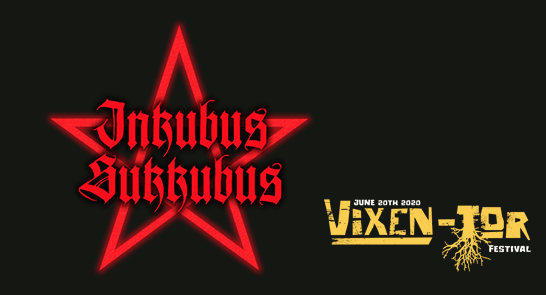 Inkubus Sukkubus: In Conversation
EVENTS TEMPORARILY POSTPONED
In response to the developing coronavirus situation in the UK, Exeter Phoenix is currently closed to the public. This is a temporary measure and we reviewing this on a month-by-month basis. The vast majority of events will be rescheduled for later dates.
Please note that the team are working through rescheduling a very high volume of events, but please rest assured we will be in touch with all ticket holders in due course. Please bear with us during this time.
Unprecedented closures like this with no confirmed government support will be hugely damaging for charities like Exeter Phoenix and many other sectors. If you are in a position to consider making a donation HERE, we would be extremely grateful.
---
*Subject to a £1.50 ticketing system charge. We don't charge this to make a profit. Find out more >>
VIXEN-TOR FESTIVAL
Inkubus Sukkubus: In Conversation
---
Formed in 1989, legendary pagan Goth band Inkubus Sukkubus have been actively touring the UK and internationally for over 30 years. Their music draws heavily on myth, folklore and legend and spans over 20 albums.
Founder members, vocalist Candia McKormack and her husband Tony (lead guitar) discuss their work with Folklore Podcast host Mark Norman, and perform some acoustic tracks celebrating women figures in folklore and history.
---
VIXEN-TOR FESTIVAL
With talks, theatre, music, workshops and film, Vixen Tor is a celebration of the fierce women of folklore. See all the events that are part of Vixen-Tor here >>
---
TICKETS
Explore more of Vixen-Tor Festival for less with a day ticket.
Book your day pass (£60* Standard | £50* Concessions) here >>
Follow the booking link at the top of this page to book this individual event.
---
VENUE: EXETER PHOENIX, STUDIO 74