…In The Middle With You
Category
Book Now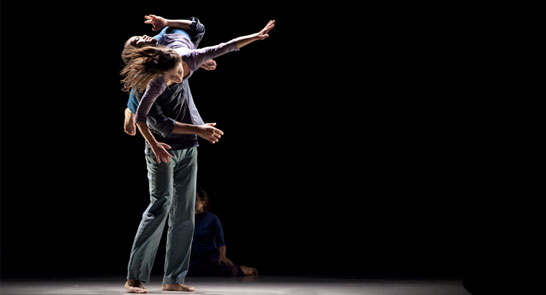 …In The Middle With You
*Please note that there is a £1.50 fee per transaction
Hagit Yakira Dance present
…In The Middle With You
Award-winning Israeli choreographer Hagit Yakira founded Hagit Yakira Dance Company in 2007 and has since gone on to tour the UK, Europe, Scandinavia and Israel. So far she has created seven works for her company amongst many other commissioned works for other companies and students. Hagit Yakira Dance Company creates work whereby human experiences, movement and dance are uniquely and poetically interwoven into an individual interpretation of relationships and emotions through dance theatre and performance.
This poignant piece delves in the nature of human experience. At times light and playful, at times stark and entrancing, the choreography moves us in very personal ways. Live music and a cast of five dancers, lure audiences in, with personal stories of love, friendship, loss and life, energy and physicality to take us to a more muted and abstract experience that becomes highly intimate. Uplifting and inspiring, …In The Middle With You makes an emotional poem of the every day life.
'This is a work brimful of ideas and moving imagery, danced with passion and conviction by her small company….. this work really deserves to be seen.'
GRAHAM WATTS, LONDON DANCE
'Eloquently crafted and beautifully performed' ????
LONDONIST
Meal Deal Available
Pre-order pie and mash when booking your ticket and have your whole evening out covered.
Pie & Mash Meal Deal ticket: £22 (includes meal and show ticket)
You can select your pie upon arrival. Visit the Pieminister website now to see what's on offer.
Please book at least 24 hours in advance and arrive at least 1 hour before your event is due to start.
VENUE: EXETER PHOENIX