Haddock & Chubb: Suspension
Thu 01 Jan 1970 - Thu 01 Jan 1970
Category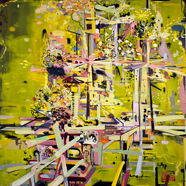 Haddock & Chubb: Suspension
The work of Simon Haddock and Stuart Chubb explores the shifting boundary between physical space and the picture plane.
The fleeting architectural forms in Haddock's paintings allude to an open landscape of motorized, mechanised interventions. There are echoes of motorway expanse, building sites and Brutalist high-rise, aggregating into a formal theatre of oblique narration and spatial games.
In their collaborative work, Haddock and Chubb explore more explicitly the relationship between construction and illusion. Using rudimentary materials recycled from major gallery shows, they take the incidental marks, cuts and constructions you might find on a building site, evolving a hieroglyphic language of DIY Modernism, playfully appropriating and re-imagining the very frame through which we are familiar with experiencing Art.
Artist's website Here
See installation shots Here