Geraldine McCaughrean with David Wyatt
Category
Other Information
SORRY, SOLD OUT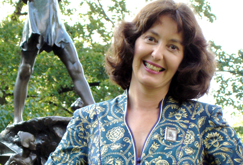 Geraldine McCaughrean with David Wyatt
*Please note that there is a £1.50 fee per transaction
 Geraldine McCaughrean with David Wyatt
'PETER PAN IN SCARLET
'
A young persons' event
Fun and games in the school hall.
Peter Pan in Scarlet is the authorised sequel to J M Barrie's timeless classic, written by Geraldine McCaughrean with stunning pictures by David Wyatt. The two of them will be bringing Neverland to Chagford and Peter Pan will need your help on an adventurous quest.
So if you really believe in fairies and are aged from 4 years up (and anyone truly young at heart), come along for some exciting story-telling, games and lots of fun.
VENUE: CHAGFORD PRIMARY SCHOOL