Gary Lucas
'+ Pierre Roxon-Hammond
Category
Book Now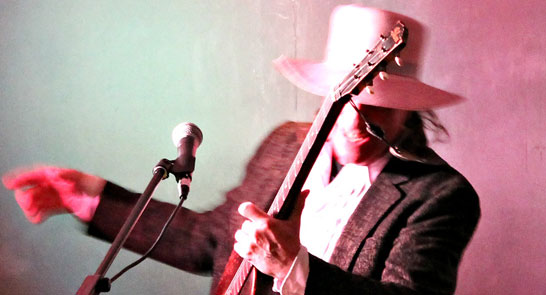 Gary Lucas
*Subject to a £1 ticketing system charge. We don't charge this to make a profit. Find out more >>
Gary Lucas
+Pierre Roxon-Hammond
Gary Lucas is one of the most innovation, idiosyncratic and daring guitarists that New York, America, the world has ever produced. Still a pivotal figure in the the city's leading avant-garde scene his 30 solo LP output, plus countless collaborations and live performances now hold the the American composer, author, guitarist in worldwide praise as one of music's true greats.
Gary infamously worked with a plethora of legendary American artists — notably the late great Jeff Buckley (which whom he wrote timeless classics such as Grace and Mojo Pin), Captain Beefheart (fulfilling his lifetime ambition of becoming a member of The Magic Band), Lou Reed and Nick Cave.
In this unique, insightful and personal show Gary will project rare archival footage of him with Buckley and Beefheart, spin unreleased tracks of his works with his many collaborators and discuss his wider career and writings in great depth.
Throughout the show Gary will play live renditions of the much loved songs he co-wrote as well as choice works from his formidable, original back-catalogue – each song given context by form of introduction, musings and memories shared.
Armed with his legendary 1966 Fender Stratocaster and 1942 Gibson J-45, Gary will delve into his vast repertoire of instrumentals, lm music, 30s Chinese pop, country blues, covers of the Rolling Stones and of course, improvisations.
New solo album Pori Boy Long Way from Home out Spring 2018.
'One of the best and most original guitarists in America'
ROLLING STONE
'One of the 100 Greatest Living Guitarists'
CLASSIC ROCK
'The Thinking Man's Guitar Hero — A-List'
THE NEW YORKER
'Legendary left-field guitarist'
THE GUARDIAN
'The world's most popular Avant-rock guitarist'
THE INDEPENDENT
Venue: Exeter Phoenix