Fresh Choices and Old Conclusions – International Shorts 3
Category
Book Now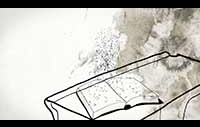 Fresh Choices and Old Conclusions – International Shorts 3
Two Short Nights presents International Shorts Screening

Showcasing the third set of a trilogy of selected short films from this year's Open Screening submissions. Starting with a small child's comprehension of life beyond death and developing to teenage battles against cultural tradition this screening will age with every film, closing with a community of Iranian elderlies who despite their best efforts simply cannot reach the end.
Some films may not be suitable for a younger audience. Prebooking is strongly advised for this screening. Order of occurrence may change.
The Films
ANDERSARTIG
Dir. Dennis Stein-Schomburg. Germany. 2011.
One child is different than the others. Because of her dreamily and sportive nature she doesn't match the generally accepted behavior of the other kids. Being different makes her more and more lonely. But in the end her loneliness saves her from being killed by the bomb that hit the orphanage.
NO ONE PUKES IN HEAVEN
Dir. Katja Benrath, Florian Hirschmann, Daniela Sandhofer. Austria. 2013.
Knowing that cancer will soon be tearing them apart, a little girl and her mother try to make use of the remaining time to live life to the fullest.
Despite – or perhaps because of the fact, that they care so much for each other, the initial strategy, to deal with the imminent goodbye playfully and in a deliberately casual way, escalates inevitably. But anger and fear turn into an opportunity…
STATUS 2
Dir. Richard Standen. UK. 2012. 02' 20"
A year has passed and Alan still isn't over the girl of his dreams (literally). Acting on instinct, Alan hatches a fool proof plan to win Katy back. What can go wrong?
GIZZZ
Dir. Yousef Jafary. Iran. 2011. 03' 00"
Gizzz is an experimental short film about an old man.
ICEBERG
Dir. Maya Eva Gunst Rudolph. China / USA. 2103. 13' 13"
Nova, a twenty-two year old drummer in a Beijing rock band is falling in love and going to America for the first time.
AFTER THE CLASS
Dir. Fereshteh Parnian. Iran. 2012. 12' 00"
On the same day that Mrs Ansari, a high school teacher is promoted to be the school's principle, her young daughter shows up to inform her of her unexpected decision.
THE MISBEHAVIOR OF POLLY PAPER CUT
Dir. Brian M. Fergason. USA/Scotland. 2013. 06' 18"
Polly's delusions of grandeur are causing her comic book obsessed mind to take a step in the wrong direction. What was once a bored Spanish girl lost in comics is now a masked sociopath with a thirst for mischief. Submerging herself into a misbelieved hyper-reality, Polly 'wreaks havoc' upon her boring Floridian town as her alter-ego, 'Polly Paper Cut'.
TWELVE
Dir. George Watson. UK. 2013. 15' 00"
Staring BAFTA winner Monica Dolan (Appropriate Adult) and BAFTA nominee Joseph Mewle (Birdsong), Twelve is the story of married mother of two, Jodie, who after an out of the blue phone call throws her life into turmoil, has just one night to admit the truth of her past to her husband, knowing that if she does nothing will ever be the same again.
REALITY 2.0
Dir. Victor Orozco Ramirez. Mexico. 2013. 11' 00"
It was autumn when I arrived in Germany. I thought that in this exotic country I could distance myself a little bit from Mexico, but I was wrong. Drug traffickers managed to take me back in a ruthless way. A short animated documentary about the drug-related violence in Mexico.
MARILYN
Dir. Chloé Meunier. UK. 2013. 01' 47"
Marilyn is a portrait of Miss Marilyn who is 70 years old. It is neither a fiction nor a documentary. We are in Miss Marilyn's private space.?? What does it means to be part of a western society that promotes its conformity and uniformity while claiming to be tolerant? Miss Marilyn found an answer to this dilemma mixing norm's code, which allows the sweet feeling of still being part of this society.
KEEPSAKE
Dir. Andy Robinson. UK. 2013. 07' 35"
A single selfless act brings back the memory of a happier time.
WORN OUT
Dir. Robbert-Jan Vos. Netherlands. 2013. 02' 00"
A cross-over between a video clip and a short film, about aging humans of all generations.
THIS IS OLD MAN
Dir. Reza Jamali. Iran. 2013. 10' 00"
Over fifty years, the men of a small village are getting old but there have been no deaths. Desperate for closure the Old Men decide to go and find death on their own terms.
Two Short Nights 2013 is kindly sponsored by: