This event has passed.
Firefly Burning & The Magic Lantern
Category
Book Now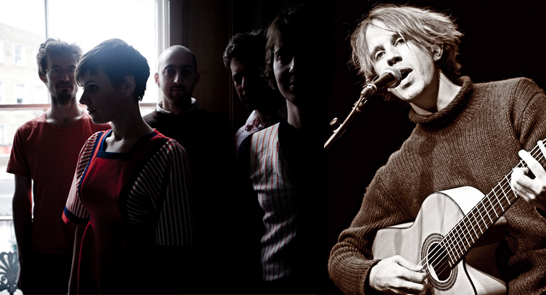 Firefly Burning & The Magic Lantern
Firefly Burning
Firefly Burning are a 5-piece collective from east London making cinematic songs which are part art song, part minimalist chamber music. With a sound-world of strings, guitar, gamelan, bass synth, piano, gongs and voices, their impressionistic music has echoes of Beach Boys, Steve Reich and Sufjan Stevens with close vocal harmonies and intricate rhythms. The band have just been working on a second album with Tim Friese-Greene from seminal band Talk Talk, which they will be releasing in autumn 2014.
'The music is so utterly hypnotic…firefly are intoxicating, beautiful and affirming'
MATCHBOX MAGAZINE
'Music that paints sound pictures and takes the audience in myriad directions at will…a vital, indefinable band. Like no other band I have seen before.'
FOR FOLKS SAKE
'Beautiful, beautiful music. A bit like North Sea Radio Orchestra meets Kate Bush, but even that doesn't do it justice.'
EPILEPTIC GIBBON PODCAST
'Quirky, challenging and innovative music…uncompromising in their bold and stark musical vision.'
BRIGHT YOUNG FOLK
The Magic Lantern
The Magic Lantern is the moniker of London based musician Jamie Doe who writes and sings songs that sound deceptively spare and starkly beautiful, but which open up to reveal a warmth, humour and wisdom that belies his age. With an immediately arresting voice that has been compared variously to Jeff Buckley and Chet Baker, The Magic Lantern's first album A World In A Grain of Sand (Hectic Electic Records) garnered much praise for its bewitching mix of folk, jazz and shades of contemporary classical music. His second album 'Love of Too Much Living' is a record stripped back to the essentials, and is due to be released on Smugglers Records in May 2014.
'Bitter sweet, beautiful music'
RADIO 3
'A classic album, I love it!'
BOB HARRIS, RADIO 2
'Fused with a mix of emotions but with gravitas and great wisdom there's is a certain Jeff Buckley quality to the arrangements and diction, and a songwriting capacity that, like Joanna Newsom's, is utterly otherworldly and densely descriptive. This is warm music for lonely hearts'
FOLK RADIO UK
VENUE: EXETER PHOENIX