Exeter Contemporary Open 2010
Thu 01 Jan 1970 - Thu 01 Jan 1970
Category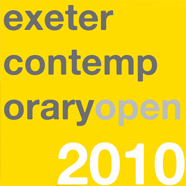 Exeter Contemporary Open 2010
[nggallery id=13]
Henny Acloque | Kirsty Buchanan | Maia Conran | Ellie Davies
Tracey Eastham | Dan Ford | Rebecca Griffiths | Barbara Howey
Robert Lang | Mahali O'Hare | Alli Sharma | David Theobald
Mimei Thompson | David Webb
Exeter Contemporary Open is an annual exhibition staged by the Phoenix Gallery, which brings together work by some of the best emerging contemporary artists from across the UK and beyond.
Now in its fifth year, the exhibition continues to present a new and refreshing cross section of artists, who show outstanding quality and an engagement with current themes and concerns in contemporary practice. The fourteen exhibiting artists have been selected from a large number of entries by this year's panel of judges, which included artist, editor and curator Cathy Lomax, gallery director Domo Baal and Phoenix Gallery curator Matt Burrows.
With the generous support of our main sponsor Haines Watts Chartered Accountants and additional support from St Austell Brewery, Exeter Phoenix and Off the Hook Clothing, the following awards were made to exhibiting artists;
£1000 Overall Award – Henny Acloque
£ 500 Additional Award – Dan Ford
£ 500 Additional Award – Kirsty Buchanan
£ 200 Audience Choice Award – Ellie Davies
Eye Opener tour and discussion: Wed 6 Oct 10.45am, FREE.
Find out more about the current exhibition through a discussion in the gallery spaces.
See exhibition images HERE