Exeter Contemporary Open 2009
Thu 01 Jan 1970 - Thu 01 Jan 1970
Category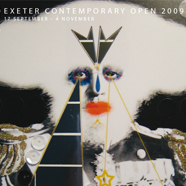 Exeter Contemporary Open 2009
[nggallery id=15]
Angela Lizon | Mat Chiversv | Alison Sharkey | Hayley Lock | Dara McGragh | Lloyd Durling | Susannah Douglas | Ben Rowe | Suzanne Mooney | Jane Maxwell-Hyslop | Charlie Tweed | Nicola Pomery | Martyn Cross | Pat Flynn | Mike Iveson | Erica Scourti
Over the four years since its inception, Exeter Contemporary Open has developed into an important national platform for emerging contemporary artists and aims to reflect themes and concerns in current contemporary practice.
This year's selection panel were Richard Ducker (artist & independent curator), Alex Hartley, (artist), Marie-Anne McQuay (Curator, Spike Island) and Matt Burrows (Gallery Manager, Exeter Phoenix) – who struggled to whittle down an exceptionally strong shortlist to the final sixteen exhibiting artists.
Spanning a broad range of disciplines, many of this year's selected artists can be seen to utilise a certain subversion of their particular materials or mediums in the realisation of their ideas. Strong themes also emerge reflecting exploration of essential, timeless and currently acute human imperatives – control & power, culture & taste, communication & environment.
The 2009 awards were
Overall Winner Charlie Tweed
Best South West Based Artist Suzanne Mooney
Best New Media Artwork Hayley Lock
Audience Choice Award Angela Lizon
See exhibition images Here