This event has passed.
Evil Scarecrow
Category
Other Information
Standing
Book Now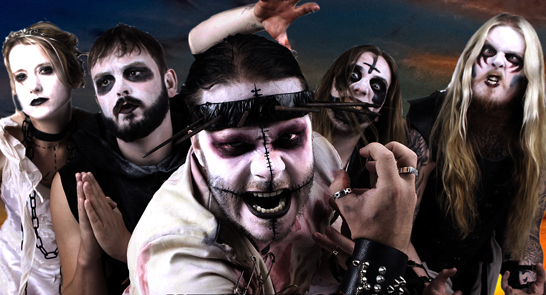 Evil Scarecrow
*Please note that there is a £1.50 fee per transaction
The Mike James Rock Show presents
Evil Scarecrow
With support from Demons of Old Metal and Embers of Eden
Nottingham's Evil Scarecrow claim to be the finest heavy metal band ever to write a song about a robot… probably. Former winners of the Bloodstock Unsigned Competition, the current line-up features a devilish cavalcade of unruly characters; Dr Rabid Hell, Brother Dimitri Pain, Kraven Morrdeth, Princess Luxury and Ringmaster Monty Blitzfist. This is metal with tongue in cheek.
'A hybrid of KISS, Send More Paramedics and the cast of zombies from Shaun Of The Dead'
METAL HAMMER
'If you havent seen Evil Scarecrow yet then it feels unfair to ruin the surprise. An affable blend of Pythonesque absurdity, artfully drawn from an evident love of metal, they have the crowd in the palm of their collective claw'
METAL HAMMER
'They perform their soul ripping metal tracks with such passion it's hard not to stand up and take notice. That and their set is also one of the most wildly aggressive and downright entertaining.'
ALTSOUNDS
VENUE: EXETER PHOENIX AUDITORIUM